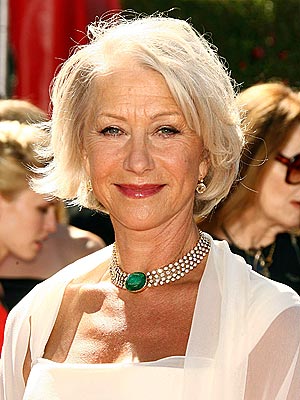 Mossad Dames

Helen Mirren
is slated
to play
"... a former Mossad agent in a Hollywood remake of the Israeli film Ha-Hov (The Debt). In the original movie, directed by Assaf Bernstein based on a screenplay he co-wrote with Ido Rosenblum, the role was played by Israeli actress Gila Almagor. The Hollywood version will be directed by John Madden (Shakespeare in Love), who has said, "Helen Mirren is the perfect choice for the central role - a national celebrity and retired Mossad agent, a formidable and dignified woman grappling with years of emotional disappointment, suddenly confronted by a powerful and unexpected choice."
Until then, we'll just have to bide our time and bite our nails.
Gila Almagor, whose role Mirren will reprise, is a brunette, a well known Israel actress who played Avner's mother in Steven Spielberg's Munich.
And speaking of formidable ex-Mossad dames, have you heard about
her
?
She has been erroneously referred to as a political dove. She is by no means a Lefty, as some on the Right have tried to paint her. She is firmly and realistically planted within the Israeli mainstream, and her positions reflect that mindset (definitely not suicidal...).