"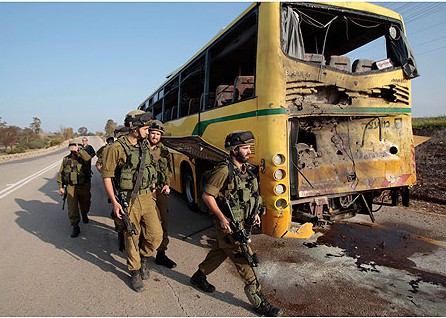 The recent upheavals in the Arab world have emboldened revolutionary Islamists and Hamas most of all. Its close ally, the Muslim Brotherhood, can operate freely in Egypt. There is much support for Islamism in the Egyptian army. And even the "moderate" presidential candidate Muhammad ElBaradei said that Egypt would go to war if Israel attacked the Gaza Strip
."_____>


The Peace Loving Candidate
The 2005 Nobel Peace Prize Laureate
, who is currently an Egyptian presidential hopeful,
makes an election campaign promise:
"Egyptian presidential candidate and former International Atomic Energy Agency chief Mohamed ElBaradei said that if elected he would orchestrate a counterattack against any Israeli offensive on Gaza.


In the world's first glimpse of the policies that may emerge from the results of the upcoming Egyptian presidential election, one candidate for president outlined his insistence on protecting Palestinians in Gaza from Israeli military assaults. Mohamed ElBaradei's position on the matter is clear: an Israeli military strike against Gaza would result in
a declaration of war from Egypt
.
"If Israel attacked Gaza we would declare war against the Zionist regime,
" ElBaradei told Arabic newspaper,
Al-Watan
, in a story reported by Ynet News."

According to Nobel's will, the Peace Prize shall be awarded to the person who
"shall have done the most or the best work for fraternity between nations, for the abolition or reduction of standing armies and for the holding and promotion of peace congresses."
Judge for yourself if this Nobel laureate lives up to the onus the prize imposed upon him.
Note the avoidance of calling Israel's name but rather referring to it by the term that its most implacable enemies prefer "The Zionist regime"
.
Such are the evil fruit of peace awards and Arab liberation movements.